Start watching this Korean drama and you will be hooked to it. So, my obsession with this started on one random weekend and I stayed up till 5 am to watch it.
When I first heard the name, I thought Boys Over Flowers is related to love-struck boys who impress girls by giving them flowers. But later I came to know that the 'Flowers' are the women whom the main characters fall in love with - their to-be wives or their soul mates.
In this TV series, Geum Jan Di, a commoner gets admission into Shin Hwa High School where all the rich and posh people go. Shin Hwa group is the leading business group of South Korea and Goo Joon Pyo is the young, dashing and dynamic successor. This description is incomplete without the introduction of F4.
Goo Joon Pyo
- Is the boss of F4. . He and his group decide whom to bully and they carry out the job so well that the other person wants to leave the school. With good looks and a killer attitude, he attracts attention from a lot of girls but he rejects them all.
Yoon Ji Hoo
- The quite, thoughtful, caring and very unlike the F4 guys, Ji Hoo is a music lover. He is the grandson of the former president of South Korea He can play the piano, violin and every other musical instrument imaginable. Still, he is swag.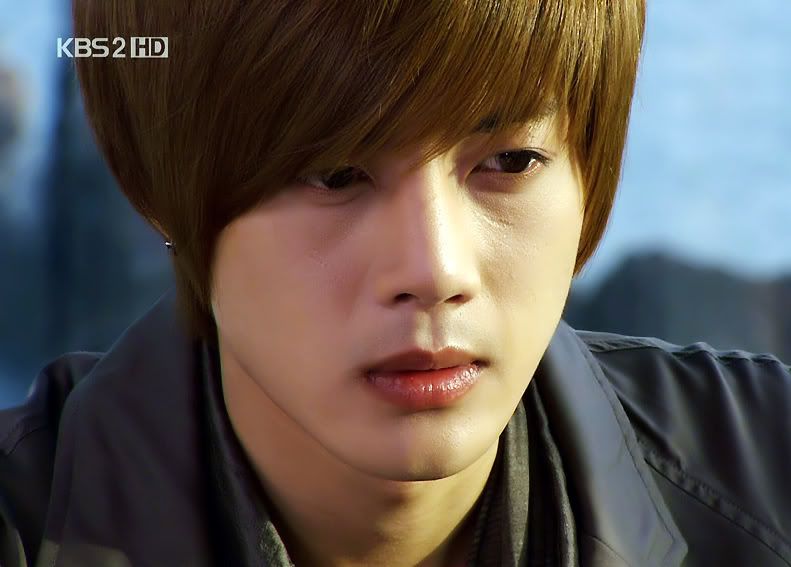 Kim Bum
- The playboy. F4's casa-nova. He can instantly attract attention from any girl and is Joon Pyo's expert relationship adviser. He is a famous potter and his family owns the biggest Art Museum in Korea. He has a rocky family history. With his good looks and style, he is very famous in school.
Song Woo Bin
- His family runs a construction company which has strong connections to the mafia. The way he speaks English with his Korean accent for instance- 'Yo Man', is extra stylish and to die for. Also, when he starts bashing up people, they are surely a gone case.
After getting over the description of the posh F4. lets continue.
Geum Jan Di
-The F4 are amused by Jan Di because she is the only one who rebels against them. Soon, Joon Pyo falls in love with Jan Di and tries to kidnap her and brings her to his mansion. Jan Di, despite going to a super posh school, isn't affected by show off and status because she believes that when people are surrounded by the same things and live with the same people, they are at the same level. Jan Di is super cute but she doesn't consider herself pretty. But she has a heart of gold which makes her lovable.
Joon Pyo's mother, the 'Witch' as she is called by Joon Pyo and a hardcore businesswoman disapproves of Joon Pyo and Jan Di's relationship due to Jan Di's family and upbringing.
Jan Di, with her positive attitude brings about a change in F4. Jan Di initially likes Ji Hoo but later starts loving Joon Pyo. When she goes to a fortune teller,she is told that out of Ji Hoo and Joon Pyo, one will be her husband and one would be her soulmate. When Joon Pyo's mother comes to know that her son is in a relationship with Jan Di, a commoner, she tries every possible way to make them break up.
She tries to bribe Jan Di's parents so that she stops dating Joon Pyo. But that doesn't work. Suddenly Joon Pyo has to leave Korea and go to Macau to manage the Shin Hwa group since he was falsely told that his father died. Geum Jan Di, saves up money and goes to meet him in Macau but he pretends to not know her. Disappointed, Jan Di comes back. Soon Joon Pyo too comes back and at his birthday party, his mother announces that he is going to be engaged to JK group's daughter Jae Kang. A hard coldness develops in Jan Di and Joon Pyo's relationship. Jae Kang is Jandi's friend too and despite knowing that Joon Pyo and Jan Di love each other, she pursues Joon Pyo. The marriage date is decided too. It is supposed to take place on the picturesque Jeju Island.
On the day of their marriage (Jae Kang and Joon Pyo's) Jandi is asked to be the bridesmaid. When the oaths are being taken, Jae Kang has enough sense to decline the marriage oath because she finally realizes the truth and how love is above money and status. Joon Pyo and Jan Di make up after this.
Just like all Korean Dramas, one accident has to happen. Goo Joon Pyo, in an attempt to save Ji Hoo from a drunkard, gets hit by a car and loses his memory of Jan Di. He remembers everyone else though. The doctor says that sometimes, memories that are too precious to a person get wiped out in such situations and clearly, that seems to be the only plausible explanation of him forgetting Jan Di.
But there is another thorn in the story. A girl meets Joon Pyo in the hospital and since she wants to date him, she tries to make him forget Jan Di. She even convinces him that she is the girl whom he was in love with before the accident. Whenever Joon Pyo remembers Jan Di, the girl tries to conceal it. Jan Di is invited to a party where Joon Pyo and tha girl announce that they are going to the States. Finally as her last hope, Jan Di makes herself fall in a swimming pool in front of Joon Pyo after which suddenly all his memories come rushing back. He saves her of course and remembers his one and only love.
Joon Pyo and Jan Di part again since Jan Di wants to pursue medicine in Shin Hwa University while Joon Pyo goes to the USA to continue and manage the family business. Afer four years, when he is successful, confident and full of life, he asks for Jan Di's hand in marriage. So this is how it all ends. A fairytale ending.
Kim Bum, the Casanova, slowly and gradually understands the meaning of true love. He falls in love with Ga Eul, Jan Di's best friend. He has flings with a new girl every other day but situations make him realize that Ga Eul loves and cares for him. So after four years, when Joon Pyo returns from the states and Jan Di is in medical school and Ga Eul is a pottery teacher, Kim Bum also returns from Sweden and the two of them re- unite. Jan Di goes to help at a Doctor's clinic and the Doctor turns out to be the former President of South Korea and also Ji Hoo's grandfather. She makes them reunite. The ending of B.O.F sweet and happy.
The bad part is that Ji Hoo too is madly in love with Jan Di but lets his best friend Goo Joon Pyo take her and that too, forever. It breaks him from inside, this parting, but he wants Jan Di to smile.Personally, I think of him as an overly sexy elder brother with a smile as bright as the sun. But do stories like these happen? Are they real? But still, they make us hopeful. This drama is a form of media which makes you dream and makes you believe that 'love lives on'.